Homeschool Art Curriculum
A homeschool art curriculum has a lot of benefits to children. This includes the development of language and communication skills, dexterity, motor skills, creativity, focus, persistence, problem solving skills, collaboration and teamwork in groups, and an improved academic performance.

Music
For our homeschool art curriculum, one of the first things that I made sure that my children learned was music specifically playing the piano. Studies show that kids who learn how to play a musical instrument do better in their academics like math, science and engineering. Learning a musical instrument takes hard work, patience and dedication. When a child masters how to play a song, it develops the self confidence of the child. In playing the piano, the child also increases their eye-hand coordination, improves their motor skills and helps in the child's dexterity.
The piano lessons for kids that I have chosen was one that I found online. This was mainly because we did not have the budget for all my kids to learn piano at the same time. I calculated that with a traditional teacher, it was going to cost us thousands of dollars in a year and we just could not afford it. So, I decided to look for an online course and I'm glad that I found one that has really helped my children play piano. Now they are often invited to play in some of the activities we go to. They play in church services like baptismal services or funeral services or cultural shows. It took them about 2 years to finish all the lessons in the course.

Visual Art

Another area in our homeschool art curriculum is visual art which includes drawing and painting. We bought a few books on the Learn to Draw series. We tried to get the children to have a go at them regularly. We use different mediums such as colored pencils, graphite, water colour and non-toxic acrylic paints. We also do paper arts like origami.

Drama
We also have drama in our homeschool art curriculum. Drama helps the children develop their self-confidence, communication skills, imagination, collaboration and cooperation.
Dance
The next in our homeschool art curriculum is dance. We bought an online course where it teaches the kids dancing. We have it once a week in our schedule. It's great to have even just half an hour of dancing for the children. It's fun!

Media Art
Media art is another area in our homeschool art curriculum. This involves creating art by telling stories through communications technologies such as film, television, video, video games, and desktop publishing. Media arts helps children to engage, inspire and it encourages their creativity. We use different kinds of computer programs for this like MS Office, and programs similar to Serif Legacy downloads. It is important that children are taught these things in this digital age.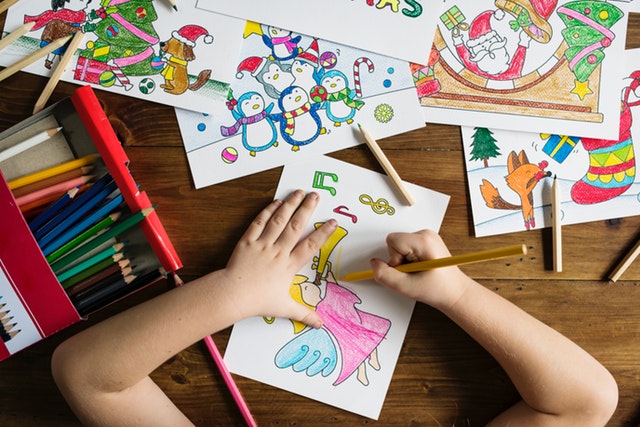 Sample for  Homeschool Art Curriculum

Other Homeschool Art Curriculum Ideas
Art Lab for Kids - This is a great book if you are looking for an introduction to different types of art media. It can put some structure and planning into artwork. It offers artists a lot of flexibility during the art creation process. It helps one plan out a project, and allows to determine what they will create in each lesson. The exercises are separate from each other. There are themed units like Drawing, Painting, Paper, and Mixed Media and you can skip things as you go. It is perfect for homeschoolers for any age. The projects cover drawing, painting, paper, print making and mixed media. You can use charcoal, oil and soft pastels, markers, acrylics, watercolors, and screen prints. 

Draw 50 Animals - This book can introduce kids to the art of drawing and help them to easily understand each step in drawing animals. The book encourages your child to visually analyze a subject to basic shapes, re-assemble them and slowly introduce details. Drawing with simple circles, arcs or ovals helps the child to focus on details and to understand proportions. This book gives a good framework and samples for practicing and thinking about animal forms. It is pretty easy to follow but it's pretty basic because it doesn't get into shading to give the animals more 'depth'. But with some practice, your art can turn out pretty good.